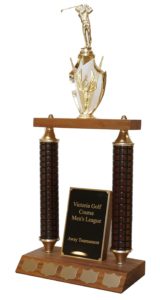 This year, our Away Tournament will be held at Trestle Creek Golf Course on Sunday, June 27, 2021 starting tee time around 10:30 AM. Only 50 minutes away from the west side of Edmonton, enjoy a spectacular golf experience as the course weaves through creeks, lakes, forest and hills. They also have a large practice area with two-tier 360-yard driving range as well as separate chipping & bunker areas.
We have a limit of 52 players so please sign-up early. The cost is $95 per person and includes driving range access, 18 holes, power cart, tournament fee & GST. More details to come.
Looking forward to meeting everyone, sharing some laughs and having a great & memorable year of golf!
Location: Trestle Creek Golf Course
Date: Saturday, June 27, 2021  – 18 Holes
Deadline for entries: May 7, 2021 (11 PM)
Payment must be made by May 7, 2021 (11 PM)
Golf fee: $95.00 (incl. GST) per player per day. Make your cheque payable to Victoria Men's Golf Club and give it to Lincoln Chow or you can use e-transfer (weekend chair will provide the info)
Regular Stroke Play Tournament – 18 Holes.
Entries are limited to 52 players
Make sure your handicap is in the system, and updated (five rounds are required in order to establish a handicap) – you can't make one up at game time. You will also need to bring a record of your HANDICAP FACTOR so your handicap can be converted to Innisfail Golf Course.
Looking forward to a great tournament!
Lincoln Chow – Tournament/Weekend Chair
Doug Krystofiak – Assistant Tournament/Weekend Chair
All members are welcome and encouraged to participate.
Tee times will be posted on Thursday, June 24, 2021.
Please check in 30 minutes before your tee time.
Have a great day and enjoy the tournament!
Gallery/Post: