What is a handicap?
Contrary to popular opinion, a player's handicap is intended to show a player's potential, not a player's average score. The frequency by which a player will play to their handicap is a function of that golfer's handicap, as low handicappers are statistically more consistent than higher handicappers.
The Handicap Factor is calculated using the best 10 of the player's last 20 rounds and updated with each new round played. The Handicap Factor travels with the golfer from course to course and is adjusted up or down depending on the length and difficulty of the course played, resulting in a "Course Handicap". The Course Handicap is the number of strokes a golfer receives from a specific set of tees at the course played and represents the number of strokes he would require to play equitably against a "scratch" golfer (a golfer with a Handicap Factor of "0.0′). The more difficult the golf course, the more strokes the golfer receives and vice versa.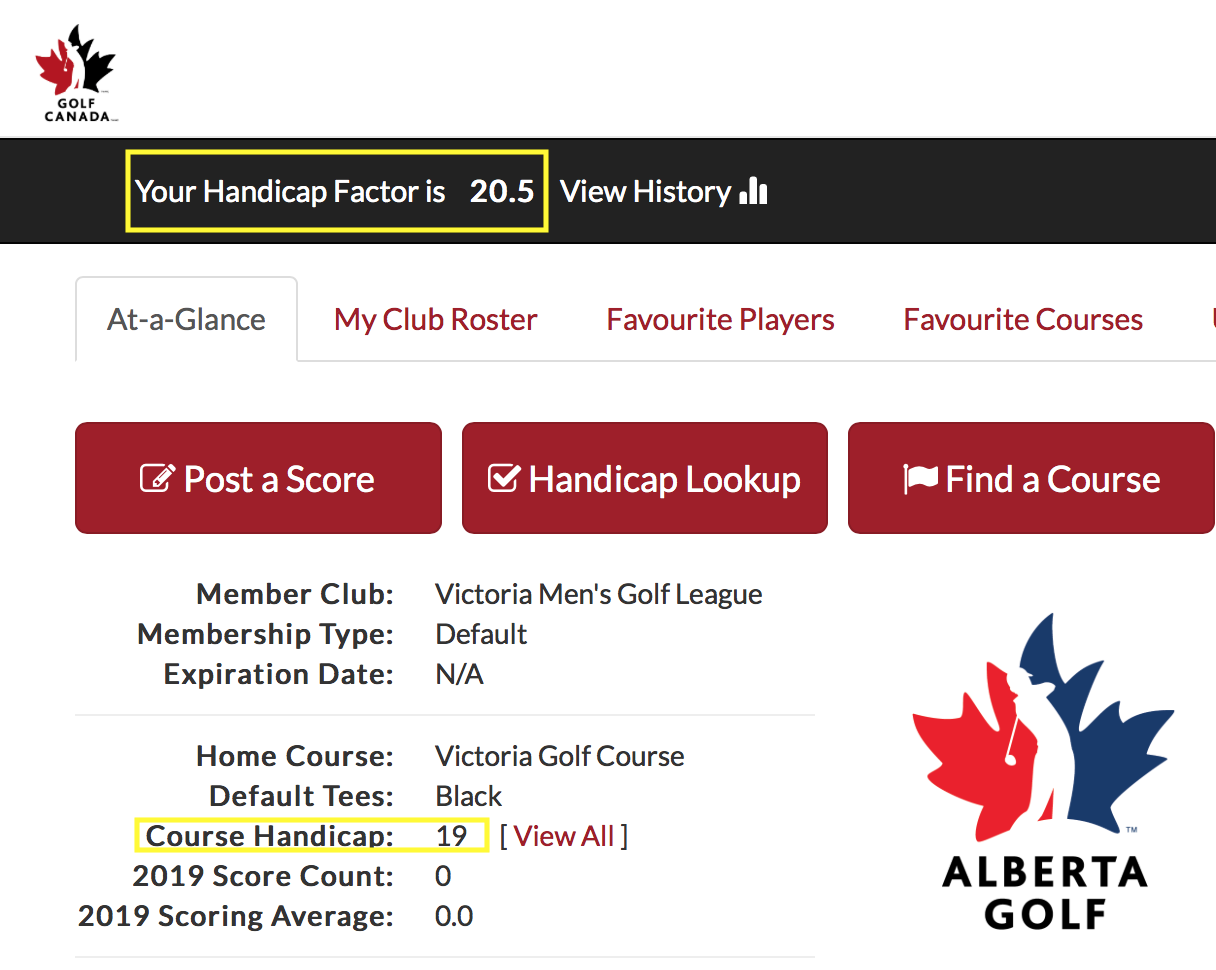 On your Victoria scorecard you are required to enter your course handicap (e.g. 19) not your handicap factor 20.5 (the factor is used to determine your course handicap on any course with a slope and rating); and your full name on the scorecard to be eligible for Wednesday night and weekend competition. NOTE: course handicap is always a whole number (no decimals).
In stroke play, it is used to calculate a net score from the number of strokes played during a competition, thus allowing players of different proficiency to play against each other on somewhat equal terms. In match play, the handicap difference between players is used to determine the number of strokes the high handicap player should receive from the low handicapper during the playing of their round. The higher the handicap of a player, the poorer the player is relative to those with lower handicaps.
If you have more questions about the golf handicap, please go to the Golf Canada link: https://golfcanada.ca/handicapping/ – handicap-faqs
Your Handicap Chair… Peter