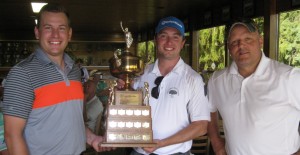 Congratulations
 Stephen Gibson, for winning the 2015 Club Championships!!!!
This years Club Championship was the most competitive and epic in recent years. The leader changed several times between the following three players:
Jordan Vallee,
Chalard Congcar
Stephen Gibson.
They were all tied after hole 17. Stephen Gibson won on the last hole with a par, when both Jordan and Chalard bogeyed.