Tournament Date: Saturday, June 10th, 7:30 A.M
Deadline for entries: Wednesday, June 7th.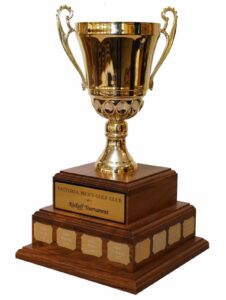 The Game
This is an awesome tournament, and much different than any other one offered during the year. Every player is given a "tombstone" marker (a cross, so all you vampires are out of luck) to carry with them. They are given a number of strokes, dependent on their handicap. When you run out of strokes, you stick your tombstone in the ground. Last player standing wins!
This is an individual stroke play tournament, with full handicaps.
Rules:
Use your handicap (Not your Factor – the number with a decimal).
Add 68 to that number (Our course rating is 67.6)
When you have used up all of those strokes, YOU'RE DEAD !
Each player is given a cross to mark their grave. Where your last shot comes to rest, that is where you are buried. Place your cross in the ground at that point.

Example: Eddie's handicap is 22. Adding that to 68 gives Eddie 90 strokes of life. Where his 90th stroke ends up is where Eddie has died and is buried.

(If your last shot ends on a green, place your cross just off the fringe).
All players that haven't died by the end of the 18th hole will continue out the first tee after everyone has finished. The player who gets the furthest with their remaining strokes is the Tombstone Champion.
All putts must be holed out. No gimmies. Each stroke is important. It is another nail in your coffin!
After you have died, you can still complete your round.
There will be a dinner at the conclusion of play.
PRIZES
The winner is awarded the Tombstone Trophy
Prizes for 1st, 2nd and 3rd
Closest to the pin on holes #3, #7, #12, and #17
KP in two on #6
Longest putt on #18
Longest drive on #16 (all flights)
All members are welcome and encouraged to participate. Tee times will be posted no later than Friday. Please check in 20 minutes prior to your tee time. Play well!
Gallery/Post:
2023 Tombstone Winner – Guruprasad Rao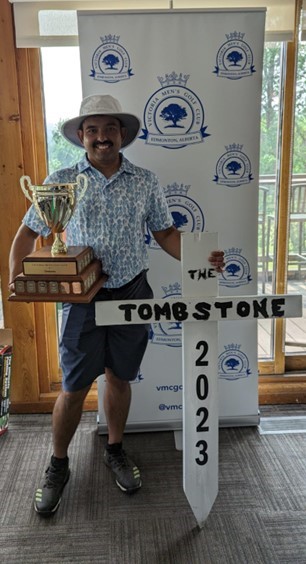 Door Prizes and Door Prize Winners