Handicapping enables golfers across different skill levels to compete equitably.
At Victoria Men's Club, we use the handicap index to determine the course handicap when competing on Wednesday night tournaments or weekend tournaments. 
On your Victoria scorecard you are required to enter your course handicap (e.g. 16) not your handicap index 21.9 (the index is used to determine your course handicap on any course with a slope and rating), and your full name on the scorecard to be eligible for Wednesday night and weekend competition. NOTE: course handicap is always a whole number (no decimals).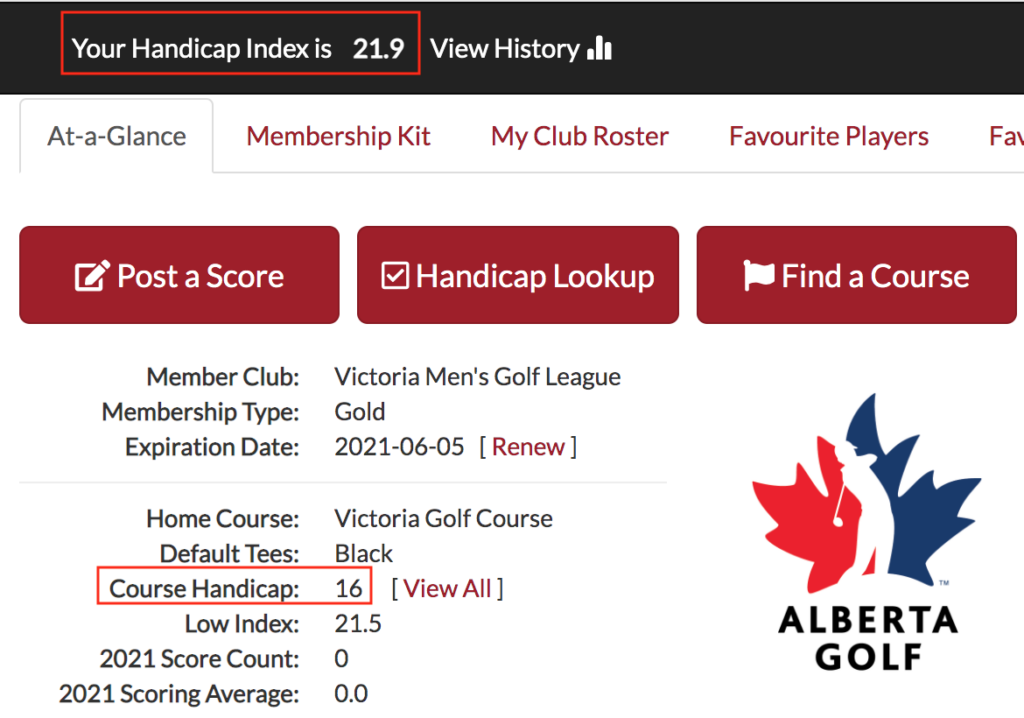 In 2020 Golf Canada adopted the World Handicap System (WHS). Here are some highlights:
Handicap Index will be based on the lowest 8 of the most recent 20 rounds
A limit of Net Double Bogey on the maximum hole score (for handicapping purposes)
A calculation considers the impact that playing conditions (including course set up and weather conditions) might have on a player's performance each day (that is why it is recommended you enter your scores on the day of play and before midnight local time – this ensures your score is included in the analysis for the Playing Conditions Calculation – PCC)
To avoid any confusion with the revised handicap rules for the WHS, it is advised to enter your hole by hole scores on the date played on the Golf Canada website to ensure your handicap is calculated correctly.
Hole by hole scores entered on the Golf Canada website is also required to ensure your eligibility in the VMC ringer board competition.
If you have more questions about the golf handicap, please go to the Golf Canada link: https://www.golfcanada.ca/handicapping/
Sample question: How do I post a score for a hole with a temporary green?
Answer: If the hole's character and playing length have not been altered and you can play hole under the Rules of Golf, then you can post your actual score on the hole. Otherwise, you must post a Net Par for the hole.
Or if you have specific questions, you can ask an expert: https://www.golfcanada.ca/ask-an-expert/
The following document is an orientation on how to log on to Golf Canada (website or app) to enter your hole by hole scores: Golf-Canada-Orientation
Your handicap chair… Peter