Tournament Date: Saturday, September 23rd 8:30 AM
Entry Deadline: Wednesday, September 20th
The Game
This is a 4-man Modified Texas Scramble.
After the tee shots, the best shot is chosen and everyone plays the next shot from there. There is no restriction on how many tee shots are used for each player. However, if you chose to (or have to) use a tee-shot that is not in your fairway it is a 1 stroke penalty.
Teams will be drawn by the tournament committee and will be made up of similar handicaps. Please do not request to play in a particular foursome or with specific people.
Teams with only 3 players will still play 4 shots. Each team member will alternate taking the additional shot.
A countback will be used to decide ties.
PRIZES
Team Prizes for 1st, 2nd and 3rd low team score.
Longest Putt on hole 18.
Closest to the Pin on #3, #7, #12 and #17.
Longest Drive on #16 (sorted by handicaps.)
Dinner will be served after completion of play, and prizes will be awarded.
AGM:
Victoria Men's Club Bylaws (to be reviewed at the year end AGM)
Meeting Agenda:
If you have any issues or concerns, or any changes that you would like to see within the club, send an email to victoriagolf.mc@gmail.com by August 31st.
These will be part of the agenda and will be discussed with the general membership at the annual meeting.
Gallery/Post:
2022 Club Final Winners (left to right) Aaron Anderson, Gerry O'Donnell, Peter Leong, Warren de Bruin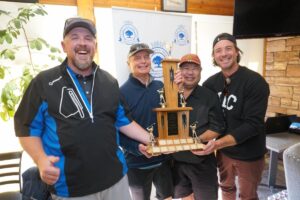 ---
2022 Fellowship Award – Chris Suvan (Left)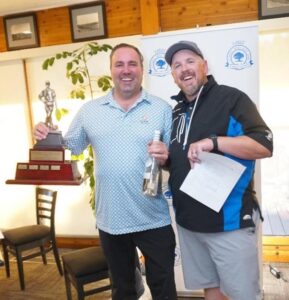 ---
2022 Prize Pig – Jordan Vallee (Left)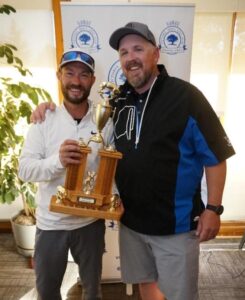 ---
2021 (Jason H, Guru R, Jordan V, Eddie M)
2021 Fellowship Award
2021 Prize Pig
2020 (John C, Derrick F, Ray S, Salim K)
2020 Best Sportsmanship Winner
2020 Prize Pig
2019 (Al C, Stephen G, Joe L, Karim D [missing])
2019 Prize Pig
2019 Club Final Info Sheet
2018 (Richard, Marv, Aaron, Peter V)
2016 (Steve, Peter, Lincoln, Gary)
2015 Club Final Champions