John Aitken has the distinction of being the longest serving Golf Professional in the Victoria Golf course's history. (1950 to 1993)
Tournament Date: Wednesday, June 15  
– Rescheduled for Wednesday, June 29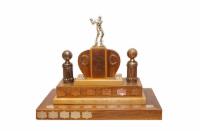 The Game
This is a NET score Stroke Play Tournament.
Lowest NET score will be our Champion.
The lowest 5 overall NET scores will be paid out. (Not by Flight).
Make sure your handicap is up to date.
The handicap listed on Golf Canada as of Tuesday, June 14 at 8pm will be your handicap for this tournament.
If you have no handicap "NH", you will compete in Flight # 1 as a zero Hdcp
Your Full Handicap is deducted from your gross score to determine your net score.
In the event of a tie, the winner will be determined by a count-back. We will NOT have a playoff.
Prizes
Trophy will be awarded to the individual with lowest net score.
1st, 2nd, 3rd, 4th and 5th place for low net (Overall, NOT flighted)
Low Gross

Handicap 12 and under
Handicap 13 and over

Normal Wednesday night hole prizes
All members playing 18 holes are automatically entered in the tournament.
All scorecards are to be handed in to the Wednesday Night Chair.
Past Winners: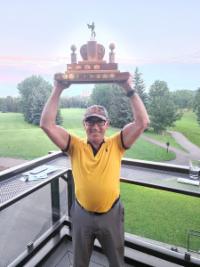 2021 Lincoln Chow
2020 Tony Defazio
2019 Tilman Klumpp
2018 Tilman Klumpp
2017 Greg Pastor