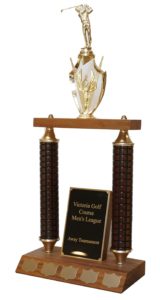 This year, our Away Tournament will be held at the scenic and challenging Innisfail Golf Course. They have a brand-new Clubhouse and have been rated Score Golf's #1 Conditioned Golf Course in Alberta & Top 3 "Best Courses You Can Play in Alberta". We'll be teeing off Saturday, June 27, 2020, starting at around 11 AM.
For this Away Tournament, club members, family, friends & guests are welcome but the maximum limit is 48 players. The cost is $125 per person (includes driving range, 18 holes, power cart, meal, gratuity & GST) for club members and any guests. Club members will also pay an additional $15 tournament fee to cover hole prizes and tournament prizes. If we go over the maximum limit of 48 players, preference will be given to club members first. The sign-up deadline is May 6, 2020, by 11 PM. Payment must be made in full by the deadline. More details to come at our Meet & Greet.
Location: Innisfail Golf Course
Date: Saturday, June 27, 2020  – 18 Holes
Deadline for entries: May 8, 2020 (11 PM)
Payment must be made by May 8, 2020 (11 PM)
Golf fee: $125.00 (plus GST) per player per day. Make your cheque payable to Victoria Men's Golf Club and give it to Lincoln Chow or you can use e-transfer (weekend chair will provide the info)
Regular Stroke Play Tournament – 18 Holes.
Entries are limited to 48 players
Make sure your handicap is in the system, and updated (five rounds are required in order to establish a handicap) – you can't make one up at game time. You will also need to bring a record of your HANDICAP FACTOR so your handicap can be converted to Innisfail Golf Course.
Looking forward to a great tournament!
Lincoln Chow – Tournament/Weekend Chair
Doug Krystofiak – Assistant Tournament/Weekend Chair
All members are welcome and encouraged to participate.
Tee times will be posted on Thursday, June 25, 2020.
Please check in 30 minutes before your tee time.
Have a great day and enjoy the tournament!
Gallery/Post:
2020 Away Tournament Winner
2020 Away Tournament – Innisfail
2020 Away Tournament – Innisfail