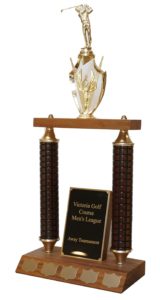 Saturday, June 25, 2022
First Tee Time (Approximately 12:00 noon)
Only 1 hour away from Edmonton, enjoy a unique golf experience as the course has many black sand bunkers surrounded by fescue.
We have a limit of 52 players so please sign-up early.
The cost is $135 per person and includes driving range, 18 holes, power cart, tournament fee, 8 oz. NY strip steak dinner with all the fixings, gratuity & GST.
Deadline for entries: May 18, 2022 (11 PM)
Payment must be made by May 18, 2022 (11 PM)
E-transfer: victoriagolf.mc@gmail.com
Cheques: make payable to "Victoria Men's Club" (give to Lincoln)
Regular Stroke Play (Net Score) Tournament – 18 Holes.
Looking forward to meeting everyone, sharing some laughs and having a great day of golf at one of the premier courses in Northern Alberta!
Lincoln Chow – Tournament/Weekend Chair
Doug Krystofiak – Assistant Tournament/Weekend Chair
All members are welcome and encouraged to participate.
Tee times will be posted on Thursday, June 23, 2022.
Please check in 30 minutes before your tee time.
Have a great day and enjoy the tournament!