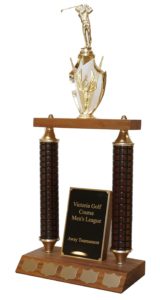 Our much anticipated Away Tournament this year will be at The Quarry. The Quarry offers a unique experience for golfers of all calibers. On each hole you will be faced with a new challenge and yet another incredible view. With masterful elevation changes throughout and an abundance of water features shaping many of the holes, this course was designed for maximum playability. As well, they have Brand New 2018 Club Car Electric golf carts with built-in GPS. This year, we are also pooling our Quarry Pro-shop credits to purchase larger door prizes so the more players sign up, the more prizes to be won.
Location: The Quarry Golf & Country Club Tournament
Date: Saturday, June 23rd, 2018 (tee times start at 7:00 am) – 18 Holes
Deadline for entries: May 23, 2018 (extension)
Payment must be made by May 23, 2018
Entry fee: $120.00 (includes GST) per player. Make your cheque payable to Victoria Men's Golf Club and give it to Lincoln Chow or you can use e-transfer yegvictoriagolf@gmail.com

Tourney fee includes 18-hole green fees, range balls, power cart w/GPS, and tournament hole prizes. Players are also eligible for various door prize draws  (Must be present to win).
Regular Stroke Play Tournament – 18 Holes.
Entries are limited to 72 players
Make sure your handicap is in the system, and updated (five rounds are required in order to establish a handicap) – you can't make one up at game time. You will also need to bring a record of your HANDICAP FACTOR so your handicap can be converted to The Quarry.
Lincoln Chow, the weekend chair, is organizing this tournament – please fire any questions his way.
All members are welcome and encouraged to participate.
Tee times will be posted on Friday, ?, 2018.
Please check in 30 minutes before your tee time.
Have a great day and enjoy the tournament!
Tournament Sign Up Sheet (click on link): The Quarry Sign Up Sheet
Gallery/Post: